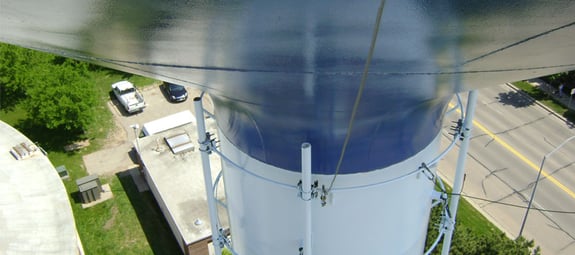 Water Tank Maintenance Services
Frequently Asked Questions
What types of services are provided under the WTMS program?
SEH D|B provides a full spectrum of services including engineering and inspection by SEH staff and construction services including tank repairs, painting, modifications, and construction. In addition, we offer a long-term maintenance program intended to address all of the ongoing maintenance issues associated with your tank.

What services are not included in the WTMS program?
The only elements not included in the program are any damages that occur due to acts of God, vandalism, terrorism, and damage due to faulty operation by the owner.

Is my water tank a candidate for the WTMS program?
Obviously, every water tank is different. We address each tank on an individual basis. To do that requires a specific inspection of the tank in question. Contact us today to schedule an appointment.

What is the process for getting a tank enrolled in the maintenance program?
First, our SEH D|B team will need to complete an evaluation to determine the current condition of the tank. Based upon the evaluation, we create a list of the repairs and rehabilitation to be performed on the tank as the initial step of the process. This work could include any welding, tank repairs, part replacements, and tank painting that is necessary to bring the tank to "like new" condition.

In addition to the determining the repair and rehabilitation work that needs to be completed, we create a customized maintenance program for the tank. Depending upon the tank type, age, usage and location, elements of the program could include inspections and reports, replacement of wear parts and consumables, management of telecommunications on the tank, and coating touch-up.

After the initial repairs and rehabilitation work is completed, the tank will be enrolled in the Maintenance Care Program where it will receive regular attention as detailed in the plan.

What are the costs associated with enrolling a tank in the maintenance program?
The costs to enroll a tank in the program vary from tank to tank and can be impacted by the age and condition of the tank, the size of the tank, the usage of the tank, and the length of the maintenance program. The costs for the program are presented in two parts – the cost of the initial repair and rehabilitation and the annual cost of the maintenance program.

SEH D|B has special financing packages available that allow for the initial repair and rehabilitation work to be paid by the Owner over a period of time instead of in one larger lump sum. Under this program the Owner can elect to pay for the initial work over a period of three years or longer depending upon the size of the project. The cost of the maintenance program is leveled over the term of the program and is paid in equal annual installments over the life of the plan. This allows the Owner to accurately budget his costs over the life of the plan without have to worry about fluctuating costs from year to year.

What other services can SEH D|B provide for water tanks?
SEH D|B is able to provide several additional services for water tanks, including the design and installation of new tanks, relocation of existing tanks, raising or lowering of existing tanks, repairs of existing tanks, and painting or application of logos.

For the design and installation of new tanks, SEH D|B is able to work with a number of the leading industry fabricators and suppliers to bring the best combination of price and quality to the tank owner. In doing so, SEH D|B is able to work with the owner to provide a tank that brings the right combination of features for the owner's needs while still maintaining a high level of quality at a reasonable cost.
Classic Protective Coatings
SEH Design|Build is pleased to partner with Classic Protective Coatings (CPC), a premier painting contractor specializing in high-quality water tank renovation projects. With a headquarters in Menomonie, WI, CPC has additional operations in Apollo Beach, FL, and Mills Point, TX, to provide a national presence for your tank painting and rehabilitation needs.

Their modernly-equipped and superiorly-trained personnel utilize Classic's signature 'Monster Blaster' to achieve unsurpassed productivity on every job site. With the largest mobile blast pots in the industry, CPC teams can cut through existing paint, rust, and surface scale to minimize project timelines and provide a high-quality surface to apply the new coating system for the best long-term results.

CPC is also an industry leader in removing heavy-metal contaminated exterior coating systems and utilizes comprehensive containment structures to enclose the project site and minimize exposure to the surrounding elements. This approach, in conjunction with a 'no exceptions' safety policy, allows CPC to maintain an unblemished safety record while keeping the clients' best interests in mind.

Together, SEH Design|Build and CPC can ease the burden of maintaining your storage facilities by providing a sole-source solution to inspect, maintain, and service your tank while offering long-term cost predictability with flexible financing options.
Initial Evaluation & Annual Inspections
Your water storage facilities are a critical element of your water supply system. Ensuring they are in good operational condition and understanding where they are in their functional service life is important when establishing and promoting a comprehensive water tank maintenance program.

Our team of certified inspectors conducts initial tank evaluations on facilities new to our maintenance program and annual inspections for all of the tanks presently under contract with SEH Design|Build.

An initial evaluation or annual inspection will document the following:


Determination existence of prior lead-based coating systems (initial evaluation only)
Existing condition of the tank's interior and exterior coating systems
Inspection of the tank's basic structural elements
Identification of any OSHA/AWWA deficiencies
Recommendation of any necessary improvements and/or immediate repairs
Verification of existing security procedures and tank protection
Evaluation of operator-noted issues

Upon completion of the initial evaluation/annual inspection, a comprehensive report is prepared for the client's review. The report includes photo documentation of each of the aforementioned elements, in addition to a detailed analysis and proposed approach for any applicable repairs and/or improvements.
Routine Ongoing Maintenance
A fundamental key to prolonging the life of your water storage facilities is implementing a pro-active maintenance program. The costs associated with significant rehabilitation, repairs and ultimately replacement of your facility can often be delayed and/or minimized by tending to routine maintenance items as they occur.

Our design|build team can readily identify several important steps to extending the functional life of your facility. An annual inspection, coupled with a comprehensive follow-up program including pressure-washing and coating repair/touch-ups, can remedy most routine maintenance issues.

However, as an operator of a water system, you don't need (nor want) to worry about your tank. As part of our water tank maintenance contracts, we include these basic tasks for the life of the contract, so you can rest easy knowing that your facilities are looking and operating at their best.
Periodic Wet Interior & Exterior Cleaning
Over time, your water storage facility may begin to accumulate sediment, sludge and other debris at the bottom of the wet interior that will require draining, cleaning and subsequent disinfection prior to refilling. SEH Design|Build can help you with all of these tasks.

If you elect to drain your tank for cleaning, our D|B team can:


Remove sediment, sludge and debris
Pressure wash the tank wet interior
Inspect and identify any pertinent maintenance issues in the wet interior
Perform minor repairs and necessary touch-ups
Identify larger issues and schedule follow-up protocol
Replace all manway gaskets
Disinfect the tank prior to refilling

Upon completion of the tank cleaning and disinfection process, a detailed report including photo documentation and inspector findings is prepared. This record may be used to document the present status of the tank interior, as well as assisting in scheduling upcoming maintenance and rehabilitation activities and developing a comprehensive, long-term maintenance program.

Similar to the necessary interior maintenance of your tank, the exterior of your tank needs periodic cleaning as well. Pressure-washing the exterior of the tank can remove mold and mildew that typically develop on the exterior surface of the tank from moisture due to condensation and precipitation, in addition to extending the life of the exterior coatings.

While a clean exterior surface to your tank may not be as important as the wet-interior surface, it remains a highly-visible element of your water distribution system. Thousands of residents, constituents and water users see the exterior aesthetic nature of your tank(s) every day. A clean tank is a strong representation that the water inside is maintained at an equally high level of quality.
Containment (Lead & Chromium Abatement)
One the most forgotten aspects of water tank rehabilitation is the removal and disposal of the existing coating system that may incorporate heavy metals, such as lead and chromium. Tanks originally built or repainted in the 1970s and early 1980s often utilized coatings systems that contain toxic materials.

SEH Design|Build can help you determine if you have an existing lead or chromium-based coating system. If the coating system on your tank is found to contain heavy metals, we can help you take the appropriate steps to safely remove and dispose of them and protect your tank with a more environmentally-friendly coating system.

Existing state and federal environmental protection guidelines identify very specific procedures for the removal and handling of these toxins, guidelines that are often overlooked by other contractors in this industry. Our D|B team partner, Classic Protective Coatings, implements several best management practices to minimize exposure to any toxic materials by our staff, the surrounding neighborhood and the environment.

Our containment and remediation components include:


Impervious ground cover, sidewalls and roof bonnet
Internal negative-air environment
Dust-collectors with HEPA filter media
Industrial vacuum units
On-site shower trailers
OSHA-required blood testing
Air-monitoring equipment for fugitive dust and debris

When it comes to enclosing your job site, handling hazardous materials, and protecting the surrounding environment, we've got you covered!
Tank Rehabilitation & Painting
The specialty of our SEH Design|Build team is blasting, rehabilitation, and repainting your ground and elevated water storage tanks, in a safe, timely, and efficient manner.

Our team partner, Classic Protective Coatings, Inc., provides unsurpassed productivity by utilizing the newest silenced air compressors, high-volume dust collectors, and state-of-the-art blasting equipment to effectively rehabilitate your facility.

Efficiently cutting existing mill scale, rust, and paint off of steel surfaces is a direct function of the volume of air used, in conjunction with the size and type of abrasive, hoses, and nozzles. By using the largest blast pots in the industry and our patented Monster Blaster, we are able to prepare a tank surface for recoating in record time and with unsurpassed quality.

When necessary, we have equipment to robotically blast the interior and/or exterior surfaces of the tank, not only eliminating the need for costly containment, but significantly shortening the project timetable; achieving these benefits while still meeting all state and federal codes for the removal and disposal of potential heavy metals.

Once the rehabilitated surface has been prepared, we utilize both high-volume spray and power-roller equipment to apply paint and lining materials to the tank. Unlike other contractors, we pay special attention to existing weather conditions and appropriate containment to minimize overspray and costly damage to surrounding property.

If you are looking to add some personalized 'community flair' to your tank, we can help you prepare a logo or design for your tank, as well as allow you visualize the final product (before a drop of paint is used) with our virtual reality imaging technology.

From the simplest lettering to the most complex murals/logos, our D|B team can help you rehabilitate your tank and provide your facility and community with a new and refreshing image for years to come.
Design Enhancements & OSHA Upgrades
Was your water storage facility built over 20 years ago?

If so, the chances are that your tank may be out of compliance with the most recent AWWA design and OSHA safety requirements. SEH D|B can help you bring your tank into compliance, implement the latest design criteria, and keep your team safe.

Some recent requirements include:

AWWA Guidelines
Frost-free vents
OSHA Safety Requirements
Fall prevention devices
Minimum railing height of 42 inches with a midrail
Minimum walkway width of 24 inches
Manways are to be circular and minimum of 30 inches in diameter
Interior lighting
If your tank does not these features, contact us today for assistance.
Emergency Repairs
Unfortunately, the only thing you know for sure, is that things will go wrong.

Functions that are critical to the day-to-day operation of your facilities will break down on occasion. When it happens, our SEH D|B team is there.

As part of our comprehensive water tank maintenance and service contracts, we provide an emergency response to assist you with your operational needs. Our team partner, Classic Protective Coatings, has years of experience in diagnosing and fixing common issues associated with water storage facilities and can provide you with the tools necessary to get you 'up and running' quickly.

Let a SEH D|B water tank service contract take the worry out of your operation and give you the peace of mind that when things do go wrong, you will have a trusted partner to help.
GASB 34 Compliance
In June of 1999, the Governmental Accounting Standards Board published Statement 34 (GASB 34). This policy required state and local governments to begin reporting all financial transactions, including the value of their infrastructure assets such as roads, bridges, water and sewer facilities, and dams, in their annual financial reports on an accrual accounting basis.

These government-wide financial statements assist in:


Assessing the finances of the government in its entirety, including operational expenses
Determining the government's overall financial position
Evaluating the government's current-year revenues and analyzing cash flow
Visualizing the cost of providing services to its citizenry
Outlining how the government finances various programs
Understanding the extent to which the government has invested in capital assets
Making a better comparison between governmental entities

To that end, our SEH|DB delivery team has worked with several state and local governments to better identify and document the costs associated with operating, maintaining, and rehabilitating their water supply infrastructure.

In addition, our ability to spread rehabilitation and maintenance costs over the life of the service agreement allows our clients to budget an annualized cost associated with maintaining their specific facility.